The Daily Sensory Things That Are Hard To Handle
21 & Sensory on diagnosis, adaptations and positivity
[AD] This newsletter is sponsored by Tiimo. Tiimo is an app for Autistic people and those with ADHD, and helps to plot a routine visually for days and weeks. You can download it for iPhone here, and for Android here.
---
Hello! How are you all doing? I hope you enjoyed your weekend, and had an Easter egg or two.
Emily blogs over at 21 & Sensory. An illustrator by trade, she posts about being a sensory being - someone who has SPD (Sensory Processing Disorder.) From weighted blankets to stimming, to daily sensory things that are hard to handle, she tackles a variety of topics. Here she talks about being a sensory being, getting an Autism diagnosis, and more. (She also has a podcast!)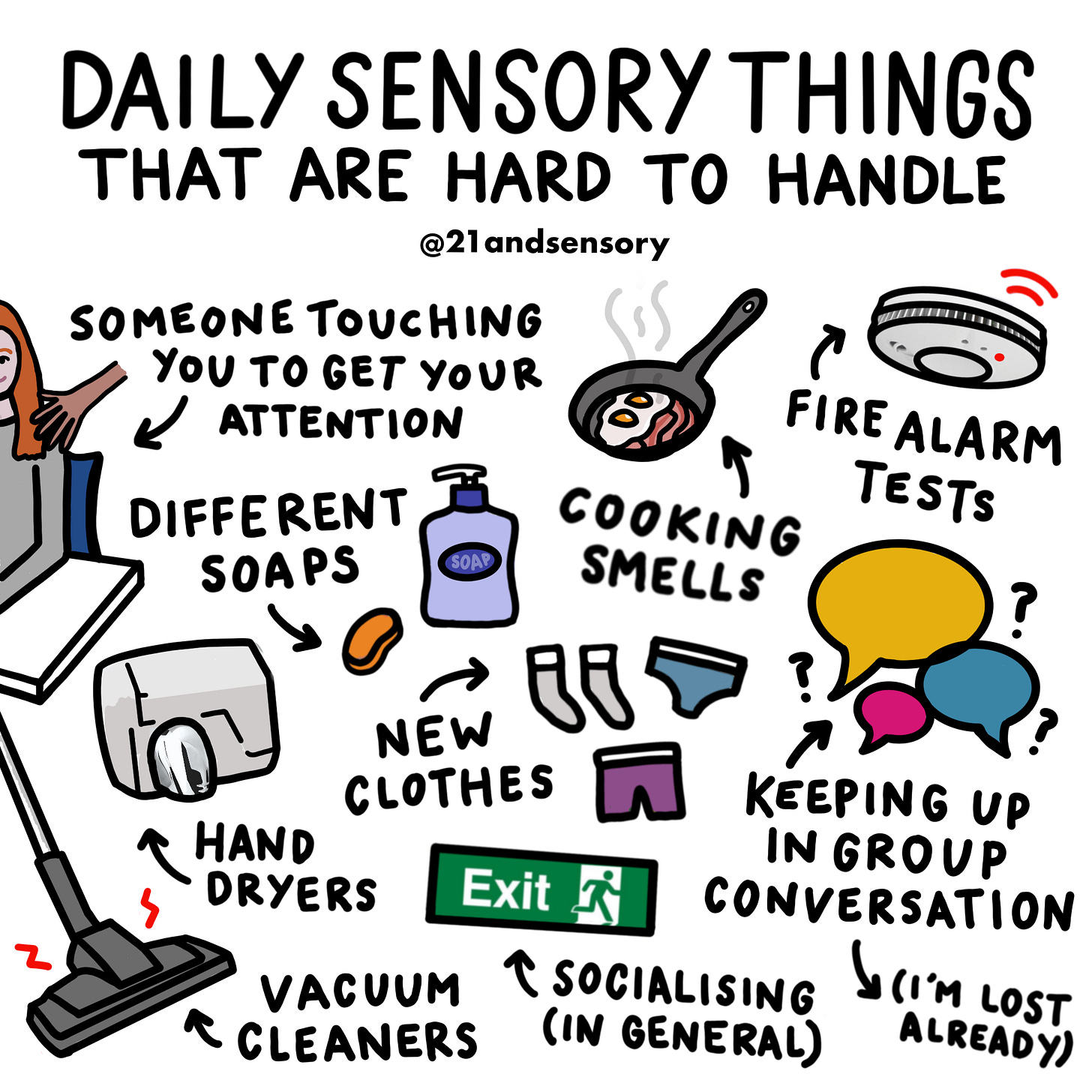 Firstly, can you tell us a little about how you came to set up your blog, 21 And Sensory? What was the impetus?
Sure. I started my blog in 2015 when I was 21 years old (hence the name 21andsensory). The main reason I started my blog was because I couldn't find any information online relating to Sensory Processing Disorder / sensory issues in teens and adults. All the information I came across was related to toddlers and children and had mainly been published in the U.S.
I started my blog with an aim to bring people everywhere together to discuss their sensory problems and how they cope with their everyday lives. I really want it to be recognised that sensory problems aren't something children necessarily grow out of but learn to live with and adapt to for the rest of their lives. 
You were also recently diagnosed with Autism; would you mind sharing your diagnosis story? Was it a surprise?
Of course. In June 2018 I was told by my therapist at the time that she strongly felt I had a lot of autistic traits and she urged me to go forward for a diagnosis if possible through my GP. My therapist felt unable to help/support me further due to these difficulties arising within therapy sessions, which was initially very difficult because I'd just started to really open up and trust my therapist more. I had always had a slight feeling I might be on the spectrum but I'd never really properly considered going forward for a diagnosis as it had never been picked up within my childhood (I did know I had sensory issues from a young age as an Occupational Therapist had assessed me aged 8 and told me I had Sensory Processing Disorder).
I decided to go to my local doctors surgery and discussed wanting to go forward for a diagnosis. I didn't really get anywhere as my doctor wasn't very understanding. Undeterred I went back to my local doctors surgery again and saw another doctor who was much more understanding. She agreed to refer me but pre-warned me that the wait time suggested was 9 months.
In the end I was on an NHS waiting list for 14 months (referred in September 2018) and I had my autism assessment on November 8th 2019. I found out I was autistic aged 25.
I don't think it was like a huge like shock/surprise... it was however a really big thing for me like internally and I honestly feel like I finally have some closure. Being  able to say 'I'm autistic' just sums up all my difficulties into one understandable label/saying which is really important to me. For so long I have been unable to summarise my difficulties quickly, always having to delve into the specifics of my sensory problems and social struggles. I felt very grateful for the opportunity to have an autism assessment at the age of 25. 
I've written an in-depth blog post on my entire journey to my autism diagnosis with more background / history here if anyone is interested in reading further. (Click here.)
What adaptations do you think an office could make for people on the spectrum? (I noticed your Instagram feature involving toilets…)
I think open plan offices are the worst! I work in one (when not in lockdown) and I find them the most distracting and busy places. My dream adaptation would be to have an office of my own (totally unrealistic but I can dream...) otherwise I think having smaller breakout rooms for quiet work would be hugely beneficial for people on the spectrum. 
I have an Instagram highlight totally dedicated to me hiding in toilets, mainly at work, to get away from noisy environments and people. I document how I feel in my Instagram stories and add them to that highlight regularly. I find toilets a great place to escape to for 5-10mins as they are mostly quiet places tucked away where I can gather my thoughts, calm down and process things before going back out to where I am supposed to be.
How have you found having to adapt to Covid 19? Do you have any advice for other autistic people?
If I'm honest it has been quite difficult for me. My last day in the office I work in was the 25th March (2020) and since then I have been working from home. I know I am so so lucky to be able to work from home but I was initially very worried about all this change in routine and structure and I felt extremely sensory and overloaded by it all. I've had a few sensory / autistic meltdowns as I've found it quite hard to process all this change as well as the constant stream of news.
As I mentioned in my previous answer I've struggled in my open plan office for a while, and I am trying to make the most this opportunity to work remotely and to properly try it out. I've managed to set-up my own make-shift home office in my bedroom and have created a routine to my working days as structure really helps me.
My advice for other autistic people would be:
Try to be more kind to yourself (easier said than done I realise) self-care is really important in a time like this in order not to get too overloaded by all that's going on in the world. Create some downtime daily if you can and don't forget to use fidget toys, stimming, etc to self regulate.

If you think it might be helpful why not create a routine, schedule structure, etc whatever might help you to go about your day. For example you could print out and decorate a weekly calendar using coloured pens (and other cute stationery and craft bits) to block out time for work/study, downtime, video chats / catchups, time to read / video game, etc. These chunks might help to break up your day into easier to see sections and give you smaller goals to work towards.

And for anyone working from home: I read a tweet earlier this week that said, 'you're not simply working from home, you are at your home during a crisis trying to work'. This really helped me as just reframing our thinking like this can be quite helpful I think. We are all doing our best - that's all anyone can ever ask of us.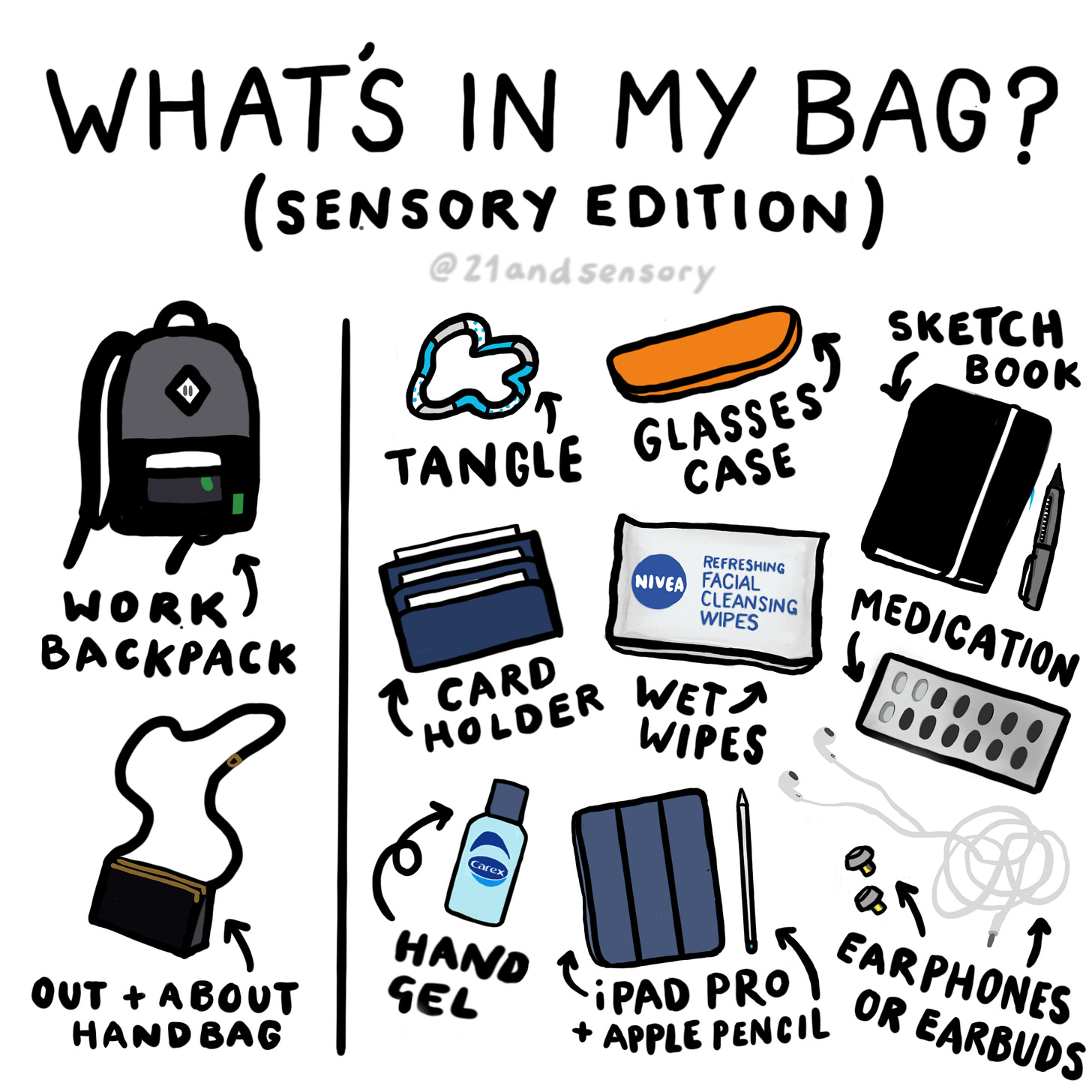 You also have other conditions, such as Sensory Processing Disorder & Dyslexia. How do you think they influence your work as an illustrator? I interviewed another Autistic illustrator recently, and she explained a little about how she works; I'd be interested to explore this.
I am very much a believer that both my SPD and Dyslexia make me me...who I really am in other words. As a result I think I am quite a creative person and my conditions really add something to my work as an illustrator and designer. I think they enable me to have a fresh outlook and different perspective of the world around me especially as I am more in tune with all things sensory!
I think both my SPD and Autism have given me the ability to hyper-focus in on creative tasks that are set for me by my company at work but also in my own side-projects too. I can quite easily lose track of time if I am really invested and passionate about what I'm doing. I am also a very dedicated worker and a bit of a perfectionist (which isn't always good as I can get a bit obsessive). However mostly I think these both help me creatively.
From a dyslexia point of view it can be difficultbecause I am forever spelling things wrong and having to spell check constantly! However I have learnt to always ask someone else to double-check my design work before it goes online or to print which really helps. It can be embarrassing by if I mention that I am dyslexic mostly people are understanding. 
I'm definitely a unique person because of my conditions but I am learning to embrace who I am. I'd love for it to be more widely recognised that people with SPD and autism are different, not less. I think we can achieve anything we set our minds to and we have such incredible strengths... I wish more people were aware of that.
For those of us who aren't familiar with SPD, what adaptations could we make every day to help you?
It's hard to get across to people who aren't familiar with SPD that my senses are ridiculously heightened and running at full capacity 24/7. I just cannot filter or process all the sensory information for example in a loud, busy, bright, crowded, strong smelling environment. It's super overwhelming and if you can't find me I'll usually be in a bathroom or outside! I think rather than asking someone with SPD 'are you okay?' if they look a bit overwhelmed or slightly zoned out (I always reply 'I'm fine' even if I'm not!) it's worth reframing your questions such as 'do you want to step outside for 5mins?' or 'would you like to go somewhere quieter?' I'd be more likely to answer questions like these more honestly.
On a larger scale I think things such a accessible quiet rooms or sensory rooms are always a massive help. Adaptations such as quiet hours in supermarkets / high street stores or having set 'autism hours' is definitely a step in the right direction.
You're also really good at explaining ASD in a way that can be understood by all, such as with stimming. What would be your favourite stim toy?
Thank you - that really means a lot that you think that. Oh that's a tough question...I think my favourite stim toy changes regularly depending on my mood and whereabouts. At the moment I would have to say anything with sequins - I have a bookmark, notebook and cushion that all have those sort of sequin designs that you can move back and forth to show different colours. Slightly obsessed with them as a visual and tactile stim! 
I always carry a fidget cube or tangle in my hoodie / coat pockets and they have helped me out numerous times when I've felt anxious or overloaded - I am always grateful to my past self for leaving them in my pockets!
For those who wish to follow in your footsteps, what would be your advice?
I think it's really important to tap into what you are good at and what makes you you. My advice would be to try and find something you are super passionate about and love doing as that way it's something that you could enjoy and find exciting to pursue further. 
Another random bit of advice: I'm a great believer of the idea that we should 'look up more' - by this I mean look up from our screens and devices and really take in the sky above us, our environment and surroundings and just generally the world around us. It can truly be a great source of inspiration especially if you are in a creative block. Why not become an explorer of the world and document your findings? There's things to be inspired by everywhere if we look up more
---
Covid 19 Resources
Freelance resources
---
What's coming up on the blog?
I'm trying to post three times a week - Monday, Wednesday, Friday - by scheduling in advance. At the time of this newsletter being written, I have two posts scheduled in total. There'll be a review of this new book…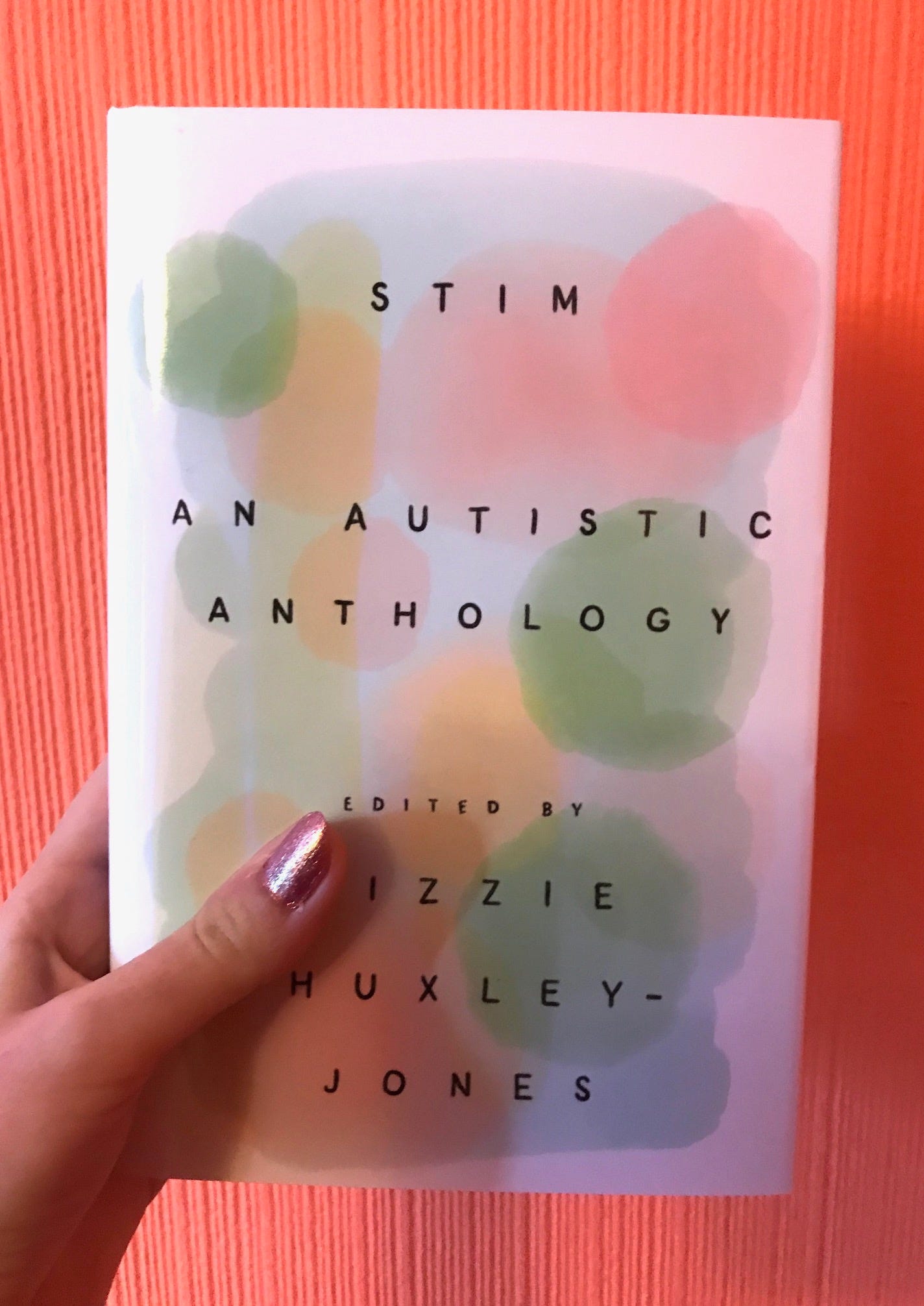 Was this newsletter forwarded to you? You can subscribe by clicking the button below:
---
[AD] This newsletter was made possible by my sponsor, Tiimo. Tiimo is a useful, visual app for Autistic people and those with ADHD. Sign up for iOS here, and Android here.