What Does It Mean To Be Brave?
Plus how to deal with executive dysfunction, a new comic, pitch clinics, masterclasses, and more
AD: This newsletter is sponsored by Teen Calm. A subscription box for anxious pre-teens and teenagers, and aims to build confidence - while letting the recipient know they are not alone. You can sign up for a one-off box or rolling subscription here .
---

By Aspie Bunn. Support on Ko-Fi here.
---
Hello!
Since I last compiled one of these newsletters, it seems like such a long time has passed. Face masks are now mandatory in shops (from 24th July), there has been a political row over the Russia report, and so much more.
I had an interview planned for this - but I spend a lot of time speaking about diversity these days. I'll probably be banging the #DiversifyTheMedia drum 'til I die! So, this is like a two-part newsletter - with a lot more resources next week. As a trigger warning: the next section contains references to death, #MeToo, and more. You may want to skip to the illustration.
And if you like what you see, please consider donating to my small fundraising goal here - it pays for the 'illustration corner'.
Stay safe,
Lydia
---
The other person on the Zoom call remarks that I am "brave" I smile awkwardly at such a loaded word.
We were discussing a feature I wanted to pursue - an interview with someone who dubs himself as number one on Vladimir Putin's 'hit list'. It lead to a lot of thinking over the week..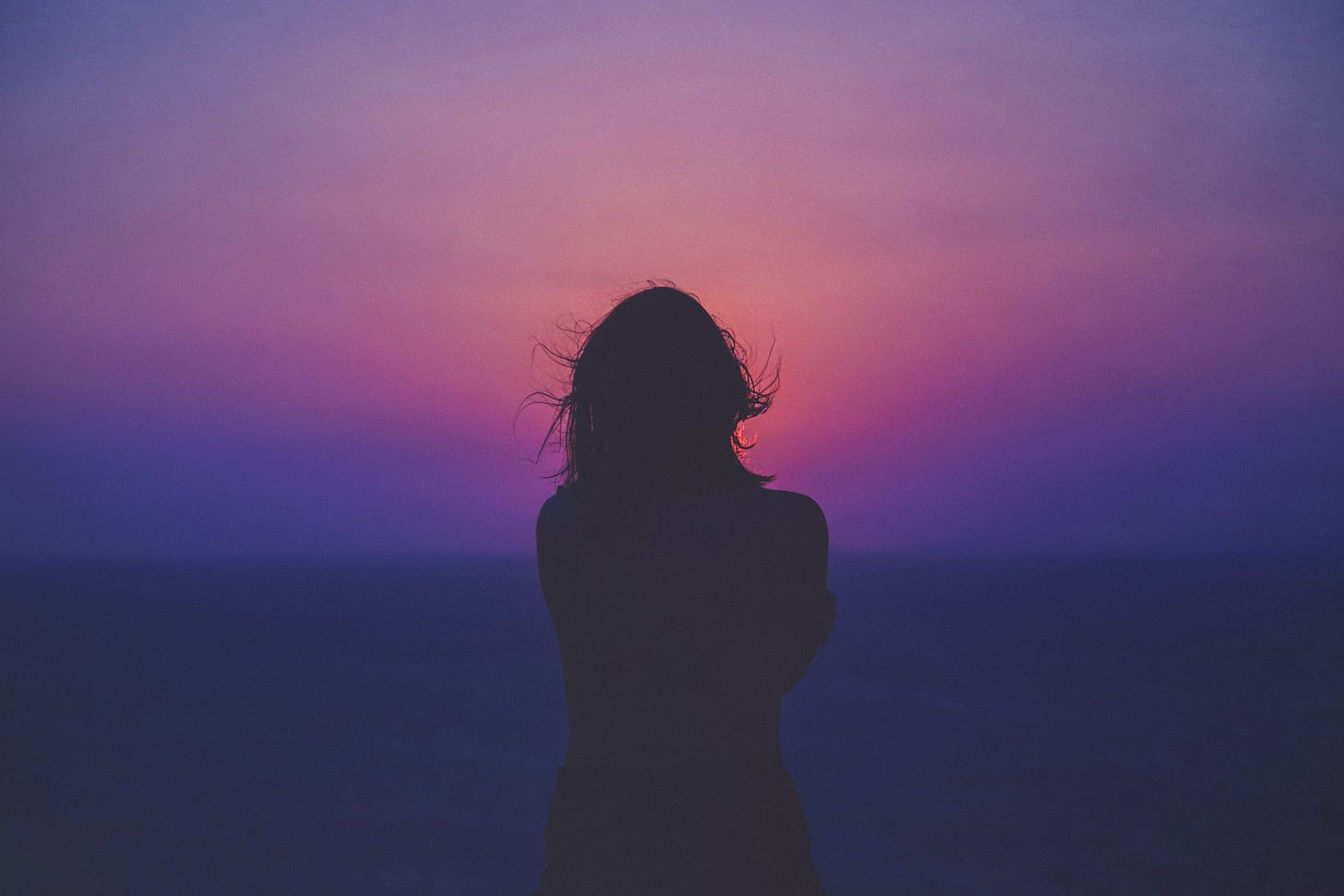 Photo by Sasha Freemind on Unsplash
I asked Twitter about how to define what 'brave' is…
Diversity matters. I spend my time talking about, writing about it - as well as sharing resources about it. But I think we need to start having a conversation about this - the "to be diversity friendly brave" schtick - and to actually be productive about it.
Being 'open' about my diagnosis does not make me brave, despite sometimes being labelled as exactly that. It makes me human - and one who needs help at the best of times. Autism can be an asset to me in this respect - such as when it comes to interviews, making contacts. I literally sat down, thought 'how can I harness my condition to help me?' That does not negate that I work better in quiet environments, or that eye contact can be downright impossible - or any of my other challenges I deal with daily.
Not always being able to read a face can put me at risk - and this has to be managed. I remember thinking it odd when being taught about 'being safe as a reporter' - and the lecturer emphasised women should take extra precautions. (Does no one else see why this is problematic? I am still asking this question.) This also does not make me brave - that I still do the job I do, knowing there are risks. I take precautions like everyone else - and I have a network of people I can ask for help, luckily.
I have a problem with other journalists who look down on what is sometimes referred to as 'the younger generation'. My belief is that you are only as good as your last story - and you need to pass a baton on, some day.
Work experience is something I disliked doing. One publication spoilt it for me - having previously enjoyed it! - and I'd go home every night, crying on the train. I had a Zoom call recently, with a journalist who told me a position I applied for was essentially worthless, and it was unlikely I'd even get it, anyway - as not many candidates are even shortlisted. There have been a couple of editors who have recently asked me for copious edits - some that would take me more than a day - for very little pay, which makes the article not exactly profitable, for the time spent working on it. (And this goes back to right before lockdown.)
I get asked a lot about Autism - and though I enjoy writing about it, I am more than just the sum of my condition. Despite being a trained reporter, I have sometimes seen my skill set be reduced to 'blogger'. I have yet to see this happen to someone neurotypical - not on the spectrum. It feels like I am a 'token' at times - the 'diversity student', as a classmate told me when studying my NCTJ.
This is just a snapshot of 'the daily grind' - the pitching, turning round copy, tracking down interviewees, compiling this newsletter.
This was 'brought home' to a contact who politely suggested I may have been taken advantage of in some circumstances, while we had a 'heart to heart'.
Some organisations are doing amazing work - look at PressPad, Journo resources! If it wasn't for the Journalism Diversity Fund, I wouldn't be here. At all. But if you support diversity, or want to, it needs to be more than just on the surface. People like myself needs support - and not just 'in name'. And diversity does have its benefits.
Other journalists talk to me some times - about their work environments, issues. In private, I have heard stories of #MeToo complaints - like when on assignment and being inappropriately propositioned, being 'used' and having pay put at risk, or even 'byline bandits'. And the majority of the stories I hear come from journalists who have some sort of disability.
The pandemic has also (largely) made everywhere 'accessible' - because we all work from home. As one of my former interviewees said, "employing disabled workers should not be a boxing ticking exercise.." It can't be any more - and it would be great to see more support, even accessibility, understanding.
To be brave is to 'big' your colleagues up, to leave a space for everyone equally at the table, and to fiercely protect it - and not just pigeonhole them. (And by pigeon-hole'd, I mean this line of thinking: "He is Dyslexic, so he will write about Dyslexia and only Dyslexia, until the end of his working life..") It is to educate yourself - when we seem to live in a world that does precisely the opposite. It is to go against the grain, to ask the questions no one else wants, even if to your detriment.
Older journalists will pass the baton on to my generation one day - and the pattern will repeat. Do not be deterred - and keep going.
---
Illustration corner
By Aspie Bunn. Support on Ko-Fi, and buy her stickers here.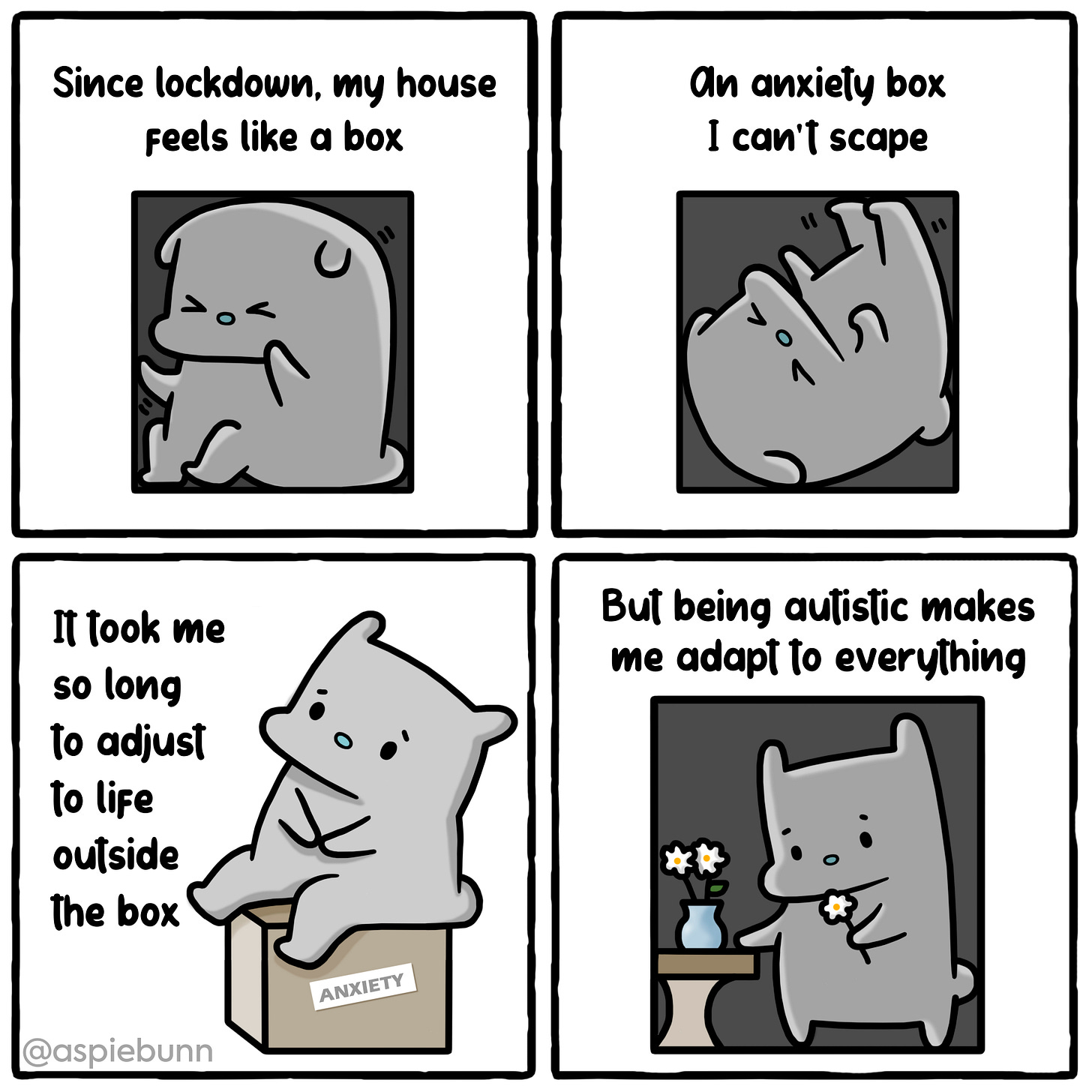 PART 2 OF 2: This was commissioned, to try and explain the pandemic from the point of view of Autistic people - who have often been left out of the narrative, and who have to adapt, despite support and aid often being cut drastically.
---
Covid 19 Resources
Note: A few of these links have previously worked with me - sometimes in exchange for money. I have recommended them regardless - but have marked as an AD to be clear about previous work relationships. I am also a ChewiGem ambassador -but no fee was given to me here.
---
Freelance Resources
---
AD: This newsletter is sponsored by Teen Calm. A subscription box for anxious pre-teens and teenagers, and aims to build confidence - while letting the recipient know they are not alone. You can sign up for a one-off box or rolling subscription here
---
Was this forwarded to you? If you like what you see, please consider subscribing via the button below - and support me by buying me a coffee here.